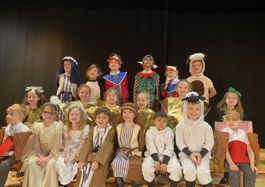 Miss Beattie teaches P1.

P1 are settling in well. The children are enjoying learning through play this year and are focusing on building social skills and friendships. This term we are focusing on tying our own shoe laces and putting our jacket on correctly.

Our P.E. days are Monday and Thursday, please bring your kit in your school bag on these days!

Our first topic this year was 'Our School and Community' to familiarise the children with their new surroundings. After this, the children pick what they would like to learn for their topic, so far we have had baking, dinosaurs and the nativity.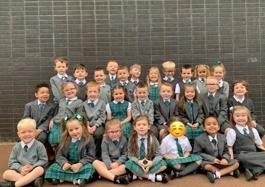 Miss Stobo teaches P2.

This year we are learning through play and we are all excited to see where our play journey takes us!

PE days for p2 are Mondays (indoor) and Fridays (outdoor).

Homework is handed out on a Monday and returned on a Thursday.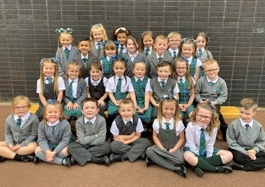 Miss Rowan teaches P3

Primary 3 have got off to a flying start and have settled well into their new classroom and routines. The children enjoyed carrying out some of our getting to know you activities and started making lots of new friends.

Our class will have PE every Monday with Mrs Phillips and every Thursday with Miss Rowan. Primary 3 have led their own learning which has included main focuses of forces, the body and learning colours and greetings in Polish.

We are also enjoying making short films using the iPads, making puppet shows and writing stories.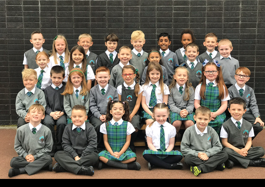 Mrs McNeil teaches Primary 4.

PE will take place on Mondays and Fridays. PE kit is a white polo shirt and black shorts.

Our class topic this term is 'Our Wonderful World'.

Homework will be published every Friday on the class blog and should be completed by the following Friday. This will give children the opportunity to complete it early if they know they have various after school commitments the following week.
Mrs Gray teaches P5.

Primary 5 have happily settled back into school life after the summer holidays. The children are mixing well and making new friends!
PE will take place on Wednesdays and Thursdays (double slot) so please remember your kit on these days. You will need indoor shoes (if you do not already have them), a white polo shirt and black shorts. Our topics this year will start with The Titanic and Climate Change.

The overall spelling ability within the class needs to improve so extra time should be spent on this part of the homework, especially focussing on the phonemes such as 'ai in sail'. You could do a variety of fun active spelling strategies or complete practise-spelling tests before the Friday check-ups take place in class.

Mrs McNamee teaches P6.

Later in the year will be investigating Climate Change and Forces. We hope to organise a class trip where we can learn more as soon as restrictions lift.

Gym days are Tuesdays and Thursdays. Feel free to bring in trainers if you prefer to wear them.





Mr Law, Mr McKissock and Mrs Aiton teach P6/7.

Primary 6/7 have settled well after returning to school after the holidays. The children are mixing well and are excited to be back together for their final year at Park View!

P7 have P.E. on Tuesday/Friday, P6 have P.E. on Wednesday/Friday. Please make sure you have black shorts/leggings and a white t shirt on these days. This term, P7 will be taking part in swimming lessons on Tuesday mornings as their double period of P.E.

Our topic this term is 'How are Movies Made' and we can't wait to learn how create and edit our movies using iMovie.

Homework is handed out on a Friday afternoon via Google Classroom and check up will take place the following Friday morning.